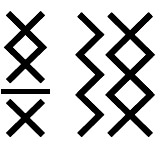 Cal Pal, a space designed to foster reflection on the identity, origins and natural and cultural heritage of Andorra.
Current activities
Admission free
Timetables
The use of a mask is mandatory.
Opening times (from July 1 to September 6):
From Tuesday to Saturday, from 10 a.m. to 2 p.m. and from 3 p.m. to 7 p.m.
Sunday, from 10 a.m. to 2 p.m.
Sunday afternoon and Monday, closed

Guided visits: More info
STAY CONNECTED!
Subscribe
Receive email updates about our exhibitions, events and much more: